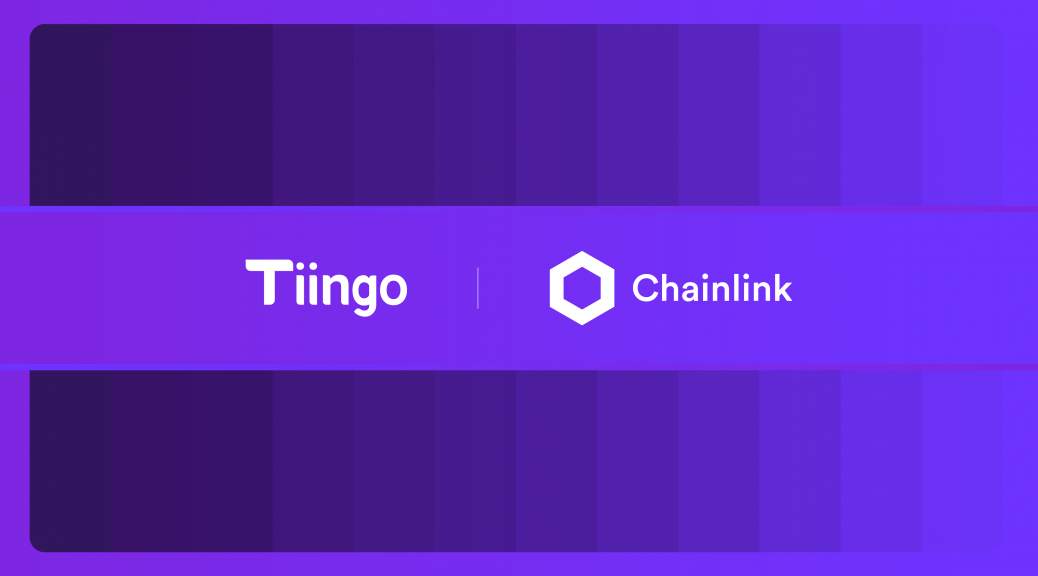 Tiingo Will Launch a Chainlink Oracle Node To Supply Blockchain Developers with Financial Data and Analytics
Tiingo Will Launch a Chainlink Oracle Node To Supply Blockchain Developers with Financial Data and Analytics
Tiingo is excited to announce that we will be bringing our premium API data to leading blockchain networks via the launch of our own official Chainlink oracle node! As part of the market-leading Chainlink Network, which connects blockchain applications (built using smart contracts) to external data APIs, we will be able get our entire suite of APIs blockchain-enabled, allowing us to supply smart contract developers with a wide variety of financial datasets used to trigger their execution. 

Given the emergence of Decentralized Finance (DeFi), an ecosystem of financial applications and products built on blockchains, we see a great opportunity to make our data available across the DeFi market via our Chainlink oracle node. Through the Tiingo Chainlink oracle node, we can broadcast our API data directly onto any blockchain platform, as well as sign that data on-chain through a unique cryptographic signature to prove its origin as being from Tiingo. Not only will this grow our reach as a data provider into new blockchain-based markets, but our data can expand the types of DeFi applications that can be built, ultimately empowering us to directly support and participate in the provisioning of a completely new and parallel financial system.

Our initial focus will be providing on-chain data regarding the closing prices of equities, before then moving our attention to developing FX feeds. This will enable DeFi developers to build on-chain financial products such as derivatives based on traditional equities, further widening the types of financial exposure users can get within DeFi markets.
Establishing Tiingo as a Top Oracle Node and DeFi Data Provider
Tiingo consists of a data research and analytics arm, a news aggregator, and a professional suite of APIs. Our API provides over 1,253,400,491 data points and counting, including price tickers for over 70,000+ global securities (stocks, ETFs, and Mutual Funds), 4,100+ crypto tickers, and 40+ FX tickers. We also have over 30 million financially tagged news articles (Equities, Funds, Crypto, and FX), and provide fundamental data on stocks and ETFs, which include 106 Indicators, 20+ Years of Fundamental History, Quarterly and Annual Data, and Restatements and As-Reported Numbers.

Our stock price API in particular is made up of at least 3 data sources on average for each price feed, protecting users against downtime and erroneous data points. We've implemented a proprietary data cleaning framework that allows us to quickly monitor any erroneous points and apply fixes, accompanied by a full audit trail to reproduce the price series. Our prices are also highly precise as we don't round to only include a few decimal places, and our uptime is high, with optimized in-memory caching, and proprietary disk caching so we can deliver data quickly and consistently.

With a wide selection of high-quality market data, we are ready to begin our journey into the blockchain markets by supplying it directly to smart contract developers and applications, where it can be used to execute key on-chain functions like settling a derivatives contract, triggering automated on-chain trading strategies, calculating fine-tuned loan rates based on historical data, and more.

However, due to the inherent security properties of the blockchain, smart contract applications are unable to natively interact with external APIs, creating what is known as the oracle problem. In order to overcome this, we required an additional piece of infrastructure known as a blockchain oracle, which can deliver external data from our API to blockchain-based smart contracts in a secure, reliable, and properly formatted manner.

Upon examining various solutions, we found Chainlink to offer the most time-tested and battle hardened oracle solution, along with a large and growing network effect of data providers and blockchain applications already supplying and consuming data through it. Some of the key features we found unique to the Chainlink Network include:

Data Quality – Through our Chainlink node, we can cryptographically sign each data point we broadcast on the blockchain, preventing man-in-the middle attacks by proving to users the origin of our data.
Blockchain Agnostic – Chainlink nodes can integrate into any blockchain network, serving as a single gateway for supplying and/or selling data to any current and future blockchain.
Network Effect – Chainlink is the most widely used oracle network in DeFi and already secures billions of dollars in value for blockchain applications, meaning there is a large consumer base already built up and growing.
Trusted Infrastructure – Chainlink is thoroughly audited open-source software built upon strong academic research and maintained by a large and growing developer community, ensuring high levels of security and reliability.
We look forward to using Chainlink to bring our world class APIs to blockchain developers around the world, empowering them to build more advanced and unique DeFi applications supported by high-quality, cryptographically secure financial data. We're confident that we can become established as a leading Chainlink oracle node for financial market data by bringing our experience and expertise into this new and largely untapped DeFi market.

"As a team focused on delivering data solutions to the ever-expanding data-driven economy, we were extremely excited at the opportunity to make our API data available across the leading blockchains via the Chainlink Network," stated Rishi Singh, CEO of Tiingo. "By running our own Chainlink node, we can now actively participate in provisioning a new wave of applications and services that bring freedom and equity to users around the world by ensuring that those data-driven products are triggered by accurate, transparent data feeds in a highly reliable manner."

About the Chainlink Network
Chainlink is the most widely used and secure way to power universal smart contracts. With Chainlink, developers can connect any blockchain with high-quality data sources from other blockchains and real-world data. Managed by a global, decentralized community of hundreds of thousands of people, Chainlink introduces a fairer model for contracts. Its network currently secures billions of dollars in value for smart contracts across the decentralized finance (DeFi), insurance and gaming ecosystems, among others.

Chainlink is trusted by hundreds of organizations to deliver definitive truth via secure, reliable data feeds. To learn more, visit chain.link, subscribe to the Chainlink newsletter, and follow @chainlink on Twitter.

Docs | Discord | Reddit | YouTube | Telegram | Events | GitHub | Price Feeds | DeFi | VRF

About Tiingo
Tiingo is an award-winning financial analytics and data platform that powers thousands of asset managers, technology firms, and individuals across the globe. Unique in its position as both a consumer of its data and distributer, Tiingo is trusted by firms across the industry for its clean and unique datasets, which are engineered for the discovery of new alpha sources. With a mission deeply rooted in democratizing access to financial analytics and data, Tiingo is also a leader in financial education for future generations, having partnered with research departments at universities across the world to advocate for financial markets literacy.

Formed in 2014, Tiingo holds that belief that love is the ideal way to conduct business. We are a team made up of artists, engineers, and algorithmic hedge fund traders. Some of us have been professional photographers, and others have created trading algos managing hundreds of millions of dollars. We are united with the same goal: to make everyone's life easier in the ways we know how.

To learn more about Tiingo's APIs visit https://api.tiingo.com and to learn more about the Tiingo analytics engine, visit https://www.tiingo.com.